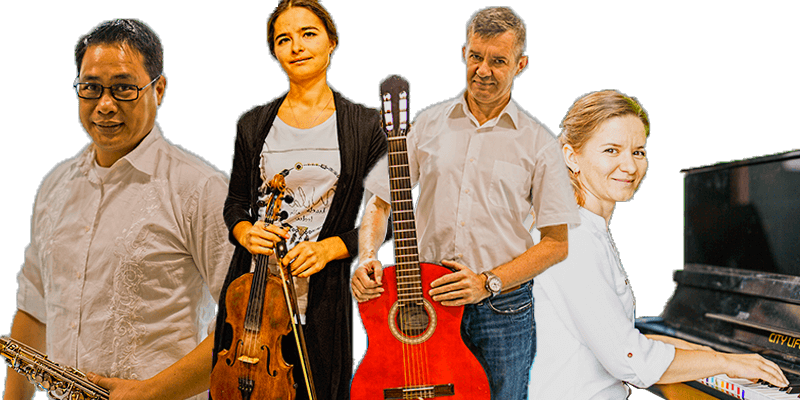 ---
BRYONY MOULE

MANAGING DIRECTOR

Bryony was born into the world of the arts, with much of her youth spent following her opera singer mother around the country. In the orchestra pits and backstage of various South African Opera Companies, her love of music and stage grew. She naturally followed her passion into this field, managing and conducting Karen's Opera Studio in Cape Town for many years.

Bryony also spent much time abroad, working in the hospitality industry in Europe and thereafter back in South Africa, where she gained valuable experience in management and public relations. She then moved to Dubai in 2003 to open IMPACT with Karen.


SARA BARDAKJI
Administration Manager
Sara received her BA degree in Graphic Design from Jordan in 2005. Following her passion she pursued a career in design bureaus across the UAE …


KAREN BRADFIELD
Vocal Tutor and Artistic Director
Karen began her training with Lloyd Strauss-Smith, at the University of Cape Town, in South Africa, where her love for opera bloomed …





​DORETTE-MARIE VERWEY
Music Tutor Clarinet, Flute, Saxophone, Fife, Recorder, Piano, Classical Guitar, Transposition, Composition, GMK
Dorette began her affair with music at an early age! Already a piano player, she discovered her first love, clarinet …


TAJANA CVJETKOVIC
Dance Instructor / Choreographer
​Tajana start dancing modern ballet with 6 years….
MICHELLE WILLIAMS
Vocal Tutor, Choir and Ensemble
Michelle studied music at the University of the Western Cape, South Africa, under Bruce Gardiner. She has a rich history of training and …

​
​TATIANA SYTNICHENKO
Music and Vocal Tutor, Piano
Tatiana hails from the Ukraine and is a vocalist-pianist who has devoted to her life to Music. She graduated from the Kiev National …
VITALII KARPENKO
Guitar / Piano, Music Instructor
​Vitalii is from the Ukraine. He began his professional music career after when he could not go to Art College…

​

VERNAY LOCKE
Dance Instructor /Choreographer/ Kids Events Specialist
Vernay's love and passion for the performing arts started at a very young age and over the years has developed and become not only a career but a dream and passion…